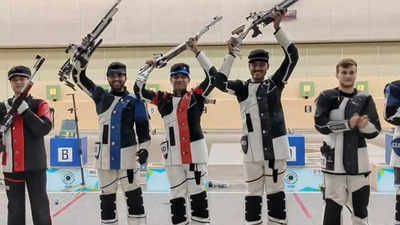 Changwon: India tops the medal table in the current ISSF shooting After many brilliant shots by the shooters, the World Cup was held here on Thursday.
India finished the tournament with three medals – three gold, four silver and one bronze – well ahead of hosts Korea and Serbia in the medal tally.
The day started well for India when the troika Arjun Babuta, Shahu Tushar Mane And Parth Makhija In the 10m air rifle team event, he helped the country win its third gold medal, defeating Korea 17–15.
Arjun, Makhija and Mane battled back and forth, and Seungo Bang, Songdo Kim and Haejun Park won the top prize ahead of the Korean team in the finals.
This was Arjun and Shahu's second gold medal in the World Cup.
The second medal of the day came in silver as the trio of Elevenil Valaviran, Mehuli Ghosh and Ramita had to settle for silver with a 10-16 win over the home team of Xion Kiyum, Yunuso Lee and Deong Gwon.
In the men's 10m air pistol team final, the Indian team lost 15-17 to the experienced Italian trio of Paolo Mona, Alessio Torchi and Luca Tesconi to seal the country's second silver medal.
In the women's 10m air pistol team event, India won its third silver medal of the day when Rhythm Sangwan's New Look team, Yuvika Tomari And Palakkad lost 2-10 against a quality Korean team that included Tokyo Olympic silver medalist Kim Minjung.
Follow us on social media
FacebookTwitterInstagramku appYouTube